"Ishigaki" Island is a center of "Yaeyama" Islands, which located at the southernmost Island in Japan.
"Ishigaki" Island is located in "Ishigaki" city, "Okinawa" prefecture and It is a center of "Yaeyama" Islands consisting of Iriomote, Taketomi, Kohama, Kuroshima, Shinshiro, Hateruma, and Yonaguni Island. Ishigaki Island is the 3rd biggest Island in "Okinawa" prefecture, approximately 140 km surroundings and 48,000 population.
Although Ishigaki Island belongs to Okinawa prefecture, it's 410 km and more away from the capital city, "Naha-shi". The distance is almost the same as the distance between Tokyo and Osaka!
Ishigaki Island became the No.1 Island which was "suddenly risen in the popular sightseeing cities & islands ranking all over the world" in 2018 on TripAdvisor's word-of-mouth ranking review.
The attractive points of Ishigaki Island are countless such as a blue ocean covered by coral reefs, a stars-filled sky, gourmet foods like an Okinawan stir-fried dish, an Ishigaki beef, and so on. This time, I'm going to introduce beautiful sunset spots fused with clear air and beautiful Ocean in Ishigaki Island that I lived for almost one and a half years.
"Uganzaki" which is famous for the No.1 popular sunset spot in Ishigaki Island.
"Oganzaki" is located in the westernmost point of Ishigaki Island and often mentioned on the internet as the most popular place.
That cape has a feature of a strong wave that surges rugged rocks powerfully, opposite to the calm impression of Ishigaki Island's sea.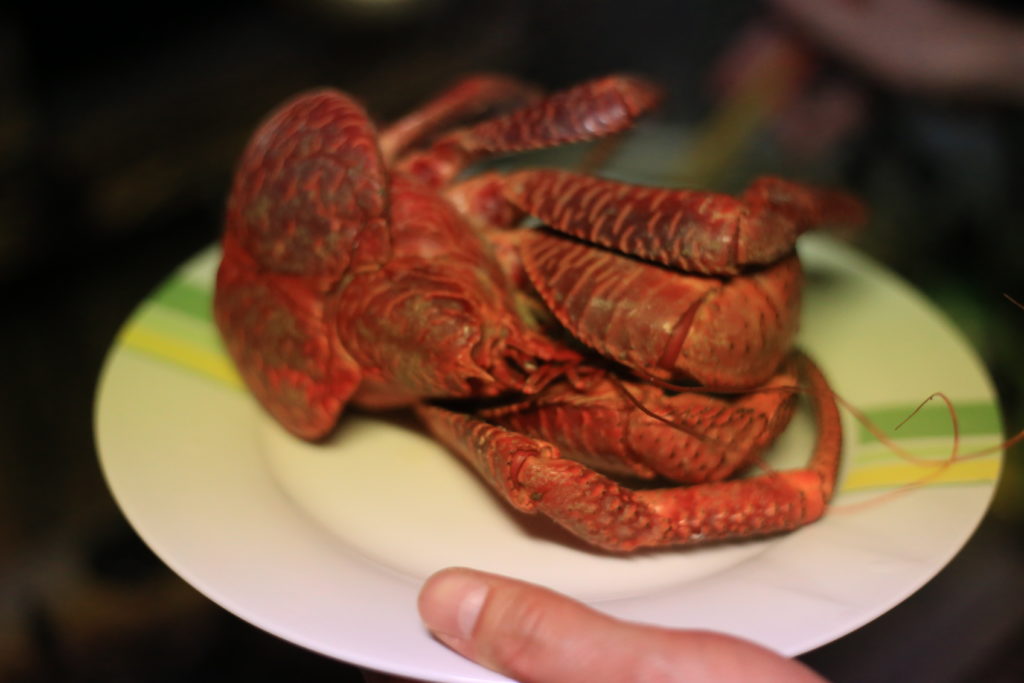 Not only Uganzaki, but you may also encounter coconut crabs that are a land hermit crab family and have large scissors when you go a little off from the center of Ishigaki Island.
I have encountered coconut crabs 3 times at Oganzaki alone but please stay away from them even if you come across them. They are very dangerous.
Coconut crabs are known as one of the delicacies in "Yaeyama" Islands. I have captured and eaten them before. But you must ask an expert to cook them because they have poison in their bowels.
At twilight, many people visit this famous spot.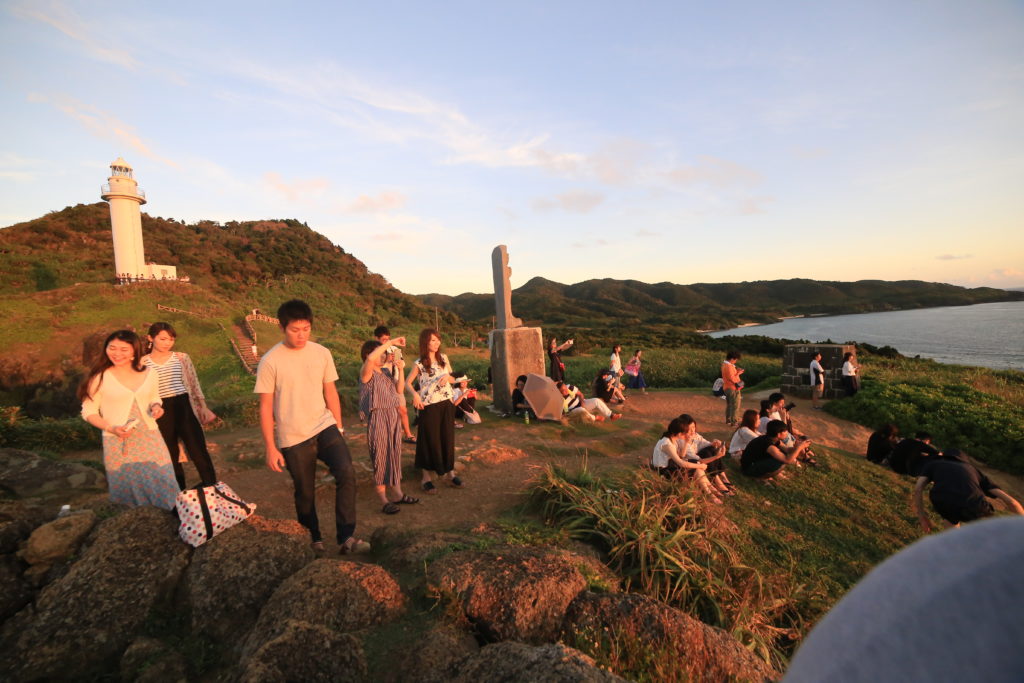 If you are planning to take a photo, you might be better to go there early and keep space.
"Nosoko-dake, called Marper", a mountain of Ishigaki Island gives you 360-degree's superb view in 30 minutes.
"Nosoko-dake" is famous for being able to attain the top of the crest in 30 minutes from the entrance of the climbing trail and view 360-degree's emerald-green sea. People on the Island often call "Nosoko-dake" as "Marpe". The origin of being called so comes from the story of a beautiful girl, "Marpe" and a boy, "Kanimui" lived in "Kuroshima". They were torn by the policy of the kingdom of Ryukyu. People on the Island often call "Nosoko-dake" as "Marpe" because Marpe continuously tried to see "Kuroshima" from Ishigaki Island and longed badly for him by climbing up "Nosoko-dake".
I selected a slight sorrow sunset photo but the sun before setting without any clouds can show us vivid scenery.
There is no light on the climbing trail at all, so you should descend a mountain before the sunset or take a headlight with you.
Nosoko-dake
 Okinawa prefecture, Ishigaki city, Nosoko
The sunset view from the resort hotel's beach, "Fusaki resort village" on Ishigaki Island.
"Fusaki resort village" is as popular as "Oganzaki" we have just introduced earlier as a sunset spot on Ishigaki Island.
The sunset is amazingly photogenic by picturing together with a gazebo on a pier floating on the sea of Ishigaki Island.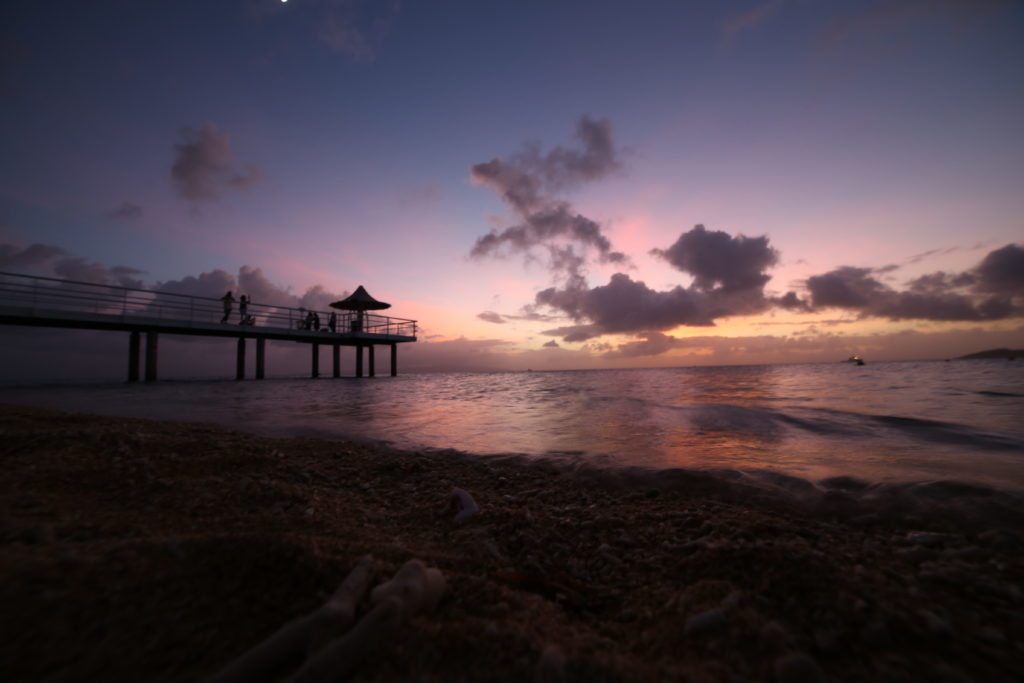 A photo with zoom-in is very beautiful but zoom-out also shows another beautiful aspect of it.
You can watch a star-filled sky from all places I introduced this time but this hotel operates a starry sky tour. Why don't you enjoy both the sunset and the starry sky?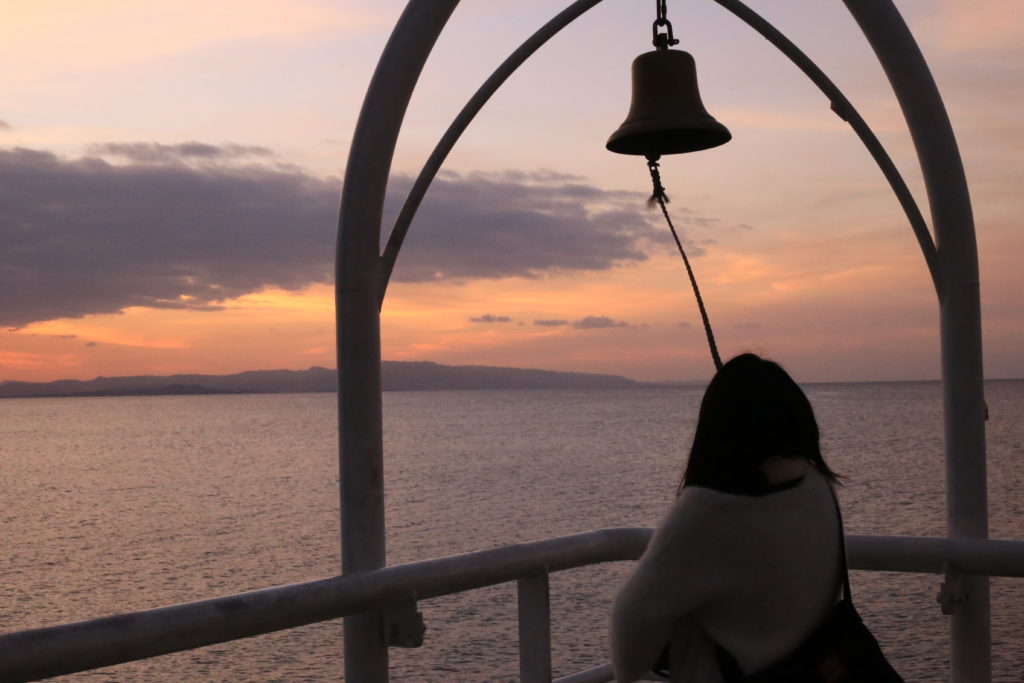 Fusaki resort village
 1625 Shinkawa, Ishigaki City, Okinawa Prefecture
 0980-88-7000
Close to the center of Ishigaki Island! Southern gate bridge fusing the blue bridge and red sunset.
Southern gate bridge has great access, 10 minutes from Ishigaki port terminal, and 5 minutes from the downtown on foot.
The bridge extends to a reclaimed site. This reclaimed site (calls Nanuhamacho) has been planned for a commercial site in the future but the site currently also known as "Cats Island" and there are not many people in and out.
In the evening, there is almost no traffic and can watch the sunset in a relaxed manner.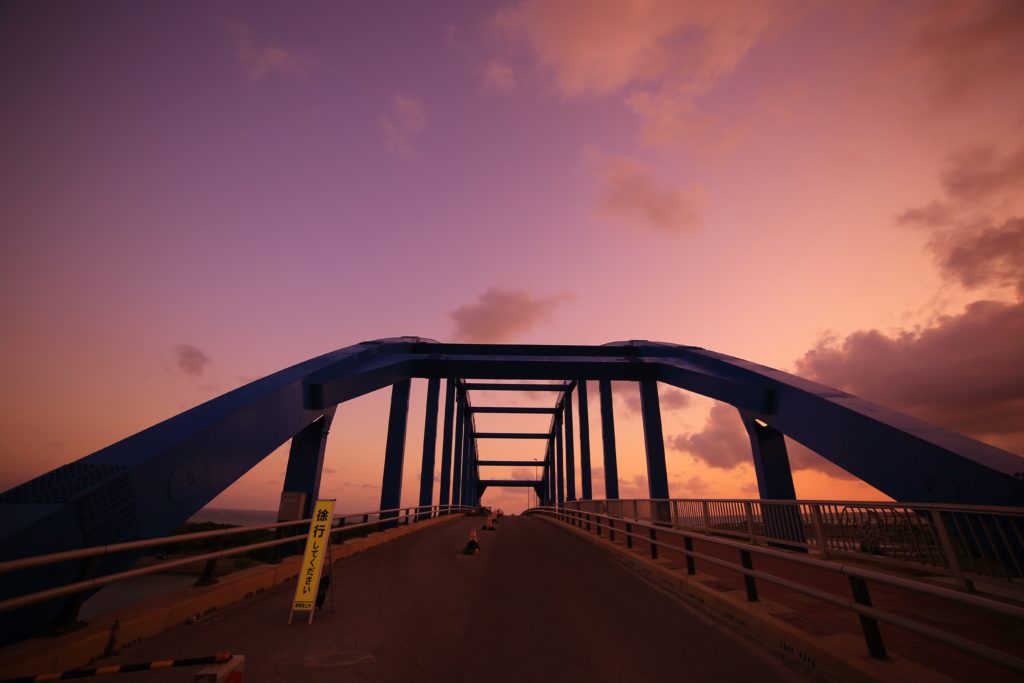 The Ships behind the bridge are owned by the Maritime Self-Defense Force located in "Hamasaki marina".
Of course, you can also see a beautiful sunset from here.
Southern gate bridge
 Yashima-chou, Ishigaki City, Okinawa Prefecture
Take a photo of mangrove and sunset together in "Nagura-anpal".
"Nagura-anpal" is famous for a tidal flat and a mangrove. This mangrove is appointed as "Nagura river's mangrove estuary" of a specific plant community of the ministry of environment. In addition, it proves rich in nature even on Ishigaki Island because it is a registered place for the Ramsar Convention.
Here, the kayak is famous and popular even in the daytime but we strongly recommend you try the sunset kayak just before setting the sun!
Below the sunset from "Nagura-anpal", we can see "Oganzaki" which was introduced earlier as the farthest west of Ishigaki Island!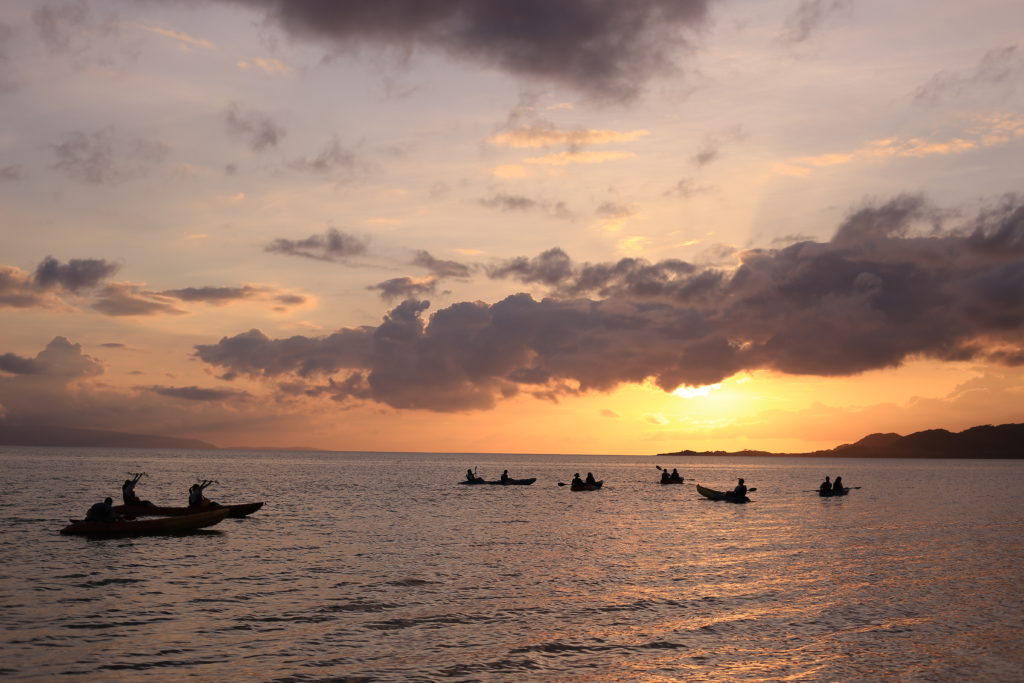 Nagura-anpal
 Nagura, Ishigaki City, Okinawa Prefecture
In the daytime, emerald green sea, when it comes to the dusk the sunset turns the emerald green into red.
We bet you must feel differently the sunset viewing on Ishigaki Island than viewing it on the main Islands.
A beautiful sunset can also be seen on "Yaeyama Islands" which is around Ishigaki Island but viewing the setting sunset into the isolated Island can only be done on Ishigaki Island located the furthest east of "Yaeyama Islands".
After gazing at the setting sun over the horizon slowly, let's have fun with drinking Awamori (a kind of shochu) made in Ishigaki Island.
We hope your memory of the Ishigaki Island trip can also turn into beautiful sunset color.
Writing/Photograph : SHUN TOMINAGA
Translated by : Ryosuke Oka