Hello everyone. I'm a writer Nakamu,
What do you feel like eating in winter? You would definitely like some hot food, wouldn't you?
There is a lot of wonderful food here in Fukuoka, and today I would like to introduce the Kakigoya (oyster huts) in Itoshima City.
What is Kakigoya? Where can we eat oysters?
Kakigoya are cook-it-yourself style restaurants or bars where you can enjoy grilled oysters. They are run by local fisherman who bring freshly caught oysters directly from the ports, which assures the customers not only of the freshness but also reasonable prices.
To access Itoshima City from Tenjin through Fukuoka-Maebaru Doro (the city freeway), it takes about 40 minutes. You should expect it to take more at weekends.
You can also reach Itoshima by taxi. From Tenjin station on the Airport Line (the subway), go to JR Chikuzen-Maebaru station and get a taxi there. It's a 10-minute ride.
*There are 6 Kakigoya areas in Itoshima, so the time may vary depending on where you go.
In the peak season of oysters (from October to April), there are about 30 Kakigoya open in the 6 areas in Itoshima City and they are always crowded.
Today I visited one in Kishi port!
Kishi Port
 778-5 Shima Kishi, Itoshima-City Fukuoka

 * Business hours may vary.
The dress code in Kakigoya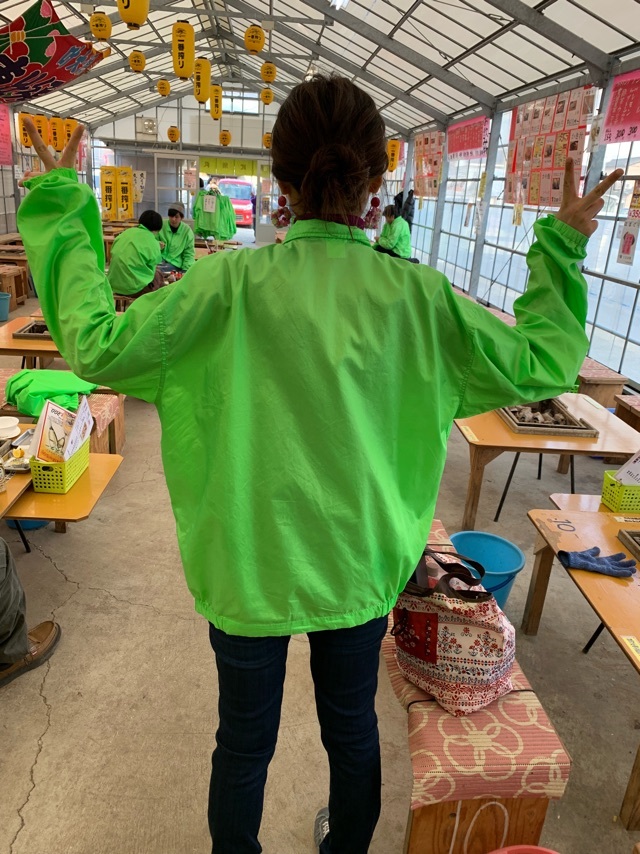 You don't have to be fashionable in Kakigoya.
Inside of the huts is smoky, and strong smell of seafood and ash from barbecue pits will be stuck in your clothes for sure!
Also, the juice of oysters may spatter onto you while cooking, which is called an "Oyster bomb" phenomenon.
I remember regretting dressing up to visit there for the first time. You should tie up your hair before you go, and wash everything that you wear as soon as you get home.
I strongly recommend wearing the cooking jacket that each hut lends. Each hut has different designs of jackets.
Everyone in the same jackets looks so united!
We actually felt that way and a friendship was built among groups.
What to bring to Kakigoya
Basically, you don't need anything. However, you should bring favorite toppings, even though soy sauce and ponzu (soy sauce with citrus juice) are already available in the huts.
Most of the huts allow customers to bring in their own toppings.  Many people bring in butter, mayonnaise, Chinese chili bean paste, Kimchi, olive oil or pizza sauce and such.
The good thing is that you can try in many ways as you like, share them within your groups.
In my case, I brought in butter, olive oil, cheese, baguette and grated radish with chili powder.
Have fun even while waiting for cooking
It is fun to suggest and share ways while trying many toppings.
It is also kind of fun to make others jealous by making oysters look so good with your own toppings. Lol
We would often stole glances at other tables and learned many good ways.
There is a variety of side dishes in Kakigoya.
Their scallops are wonderful too!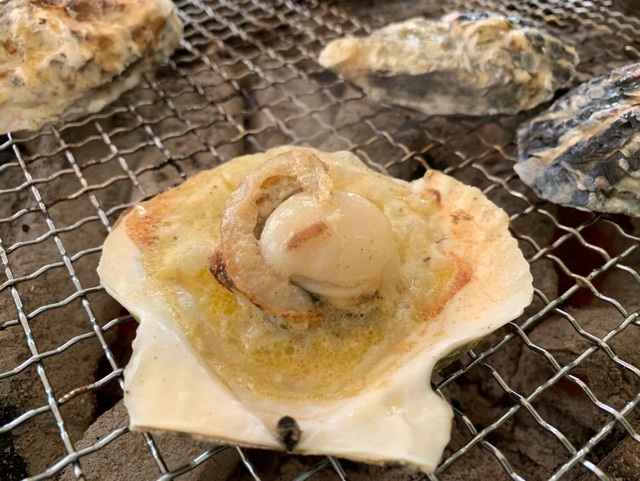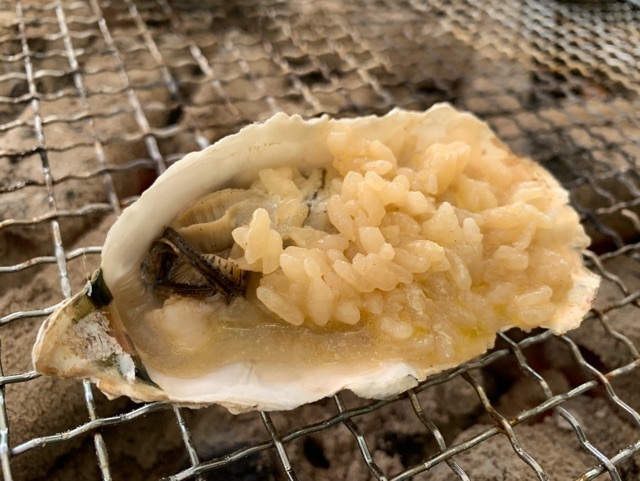 Oyster + oyster rice (ordered from side dishes) + butter = oyster risotto
This was the best dish of this year found by chance. Please try it!
Remember to check the doneness if you are a beginner!
Oysters may contain norovirus which leads to food poisoning. Symptoms of norovirus are vomiting and diarrhea. However, the virus will die out if oysters are cooked well, so please be careful.
You'll be provided a guidance of how to cook at each hut, but you can also ask the staff for help if you are not sure. Stay careful, and you will be fine. My friends and I have never gotten infected. So do not worry too much, just be careful.
Have a nice drive home along the coast
Itoshima is also famous as a great driving spot in Fukuoka.
You can have some coffee at a cafe along the coast, visit some shops that sell one-of-a-kind goods….
It will make your day more brilliant!
Enjoy seasonal oysters as much as you can!
How was it? Do you feel like trying oysters?
It's great to eat seasonal food that you can enjoy only in specific area.
Come visit Itoshima for seasonal nutritious oysters!
Writing/Photograph : NAKAMU