Shodoshima - A resort island with a mild climate
The Seto Inland Sea is surrounded by Honshu, Shikoku and Kyushu. Here, a peaceful scenery fills the area, accompanied by a pleasant climate with little rainfall.
As the second largest island of the Seto Inland Sea after Awaji Island, Shodoshima is a popular tourist spot filled with highlights – beautiful mountains, the sea, and a nostalgic townscape.
We travelled by car to Shodoshima for a one-night family trip.
To get to Shodoshima, board the ferry from New Okoyama Port (also known as Shin-Okayama Port) to the Tonoshokou Terminal on Shodoshima. The ferry to Shodoshima departs every hour, and can be taken from the Takamatsu Port as well.
There are also ferries that depart less frequently from Kobe and Himeji.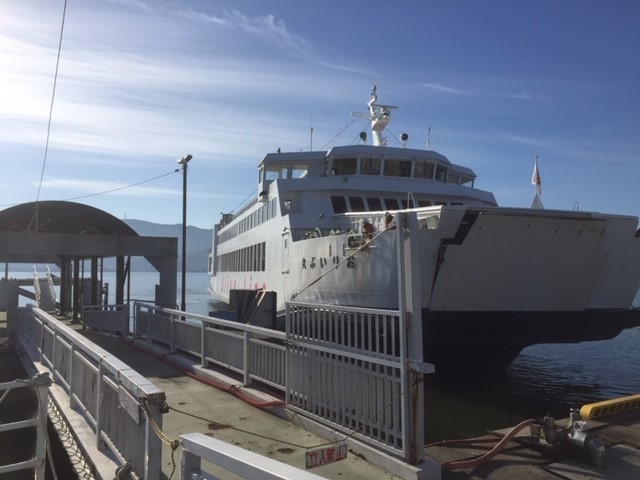 New Okayama Port (Ryobi Ferry)
 9-1 Shinchikko, Naka-ku, Okayama 702-8003, Okayama Prefecture
 086-274-1222 
 Fare to Shodoshima: Adults ¥1050, Children ¥530
The fare for cars depends on the size of the vehicle (includes the fare of the driver): ¥4200 (Less than 3m)
 Bus from JR Okayama Station takes 40 mins (490円)
 http://ryobi-ferry.com/ 
Getting around in Shodoshima
On the island, the main attractions are accessible by the local buses. You can purchase the bus passes (1 day or 2 days) for unlimited bus rides.
Rental cars and bicycles sound great too, don't they? In Shodoshima, it's common to see people getting around with bicycles.
Impressive, diverse sceneries
Shodoshima is a treasury of picturesque landscapes. Here are some of the beautiful sceneries that I have encountered.
Angel Road that appears twice a day
The Angel Road is a sandbar that connects the Shodoshima to a small island, and only appears twice a day during low tides. It is said that if one walks along Angel Road while holding the hands of a special someone, wishes will be granted. Doesn't that sound romantic?
I went slightly late and Angel Road had submerged while I was still making my way on it… how unfortunate.
Just around the corner sits a slightly elevated hill popular among couples, where Angel Road can be viewed from: The Hill of Promise (Yakusoku no Oka) Observatory.
A famous place for autumn leaves, Kankakei Gorge
The Kankakei Gorge sits in a national park rich with nature. Its appearance varies every season, but it is particularly famous for the beauty of its autumn leaves that color various trees vividly. When I was there, the autumn leaves were already past its peak.
At the Kankakei Gorge, you can take the Kankakei Ropeway to enjoy its breathtaking panorama views.
Here's the view from the ropeway ↓
There is also a scenic trail from the ropeway station to the summit; you can choose to walk up leisurely, or simply hike down after the ropeway ride up.
Kankakei Ropeway
 168 Kankakedori, Shodoshima, Shozu District, Kagawa 761-4433, Japan
 0879-82-2171
 8:00~17:00
 Adults ¥1760 (round trip), ¥980 (one way)
Children ¥980 (round trip), ¥490 (one way)
※ A 10% off coupon available from the homepage of the official website
 http://www.kankakei.co.jp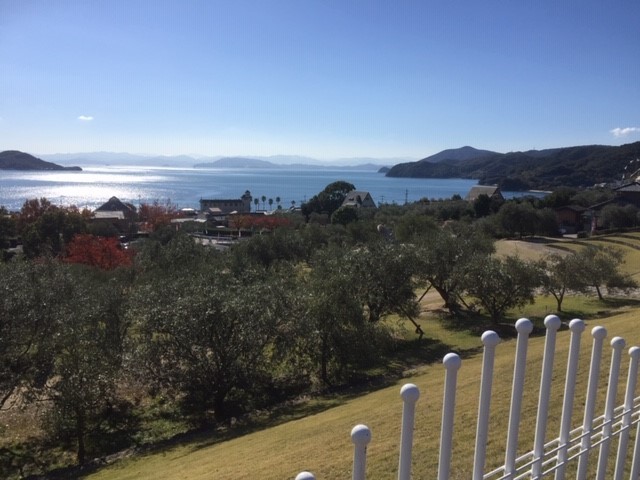 Shodoshima, the birthplace of olive cultivation in Japan, flourishes with olive trees all over the island.
At Roadside Station Shodoshima Olive Park ,
2,000 olive trees sit planted on a small hill. From here, you can see a nice view of the calm ocean beyond the trees. The weather was really nice and great!
Roadside Station Shodoshima Olive Park
 Kagawa Pref. Shouzugunshoudoshimachou Nishimura A: 1941-1
 0879-82-2200
 8:30~17:00 
 http://www.olive-pk.jp/
Unwind as the sun sets over Seto Inland Sea
The beauty of the sunset over the quiet Seo Inland Sea is a must-see.
The photo shows the sunset as seen from "Resort Hotel Olivean Shodoshima", where we stayed on this trip.
The scenery from this area has been selected as one of the "100 Best Sunsets in Japan" for its authentic beauty.
Resort Hotel Olivean Shodoshima
 Japan, Kagawa, Shozu District, Tonosho, Yakatazakikou,63-1
 0879-65-2311 
 https://olivean.com/
3 famous specialties of Shodoshima
Speaking of specialties, these definitely come to mind: soy sauce, olive, soumen. Wherever you go in Shodoshima, these are the three things you will encounter. Be sure to try them while you are here!
Traditional soy sauce factories are a common sight in Shodoshima. One of the factories built in the Taisho period has been renovated into a museum – the Marukin Soy Sauce Museum, where visitors can learn traditional soy sauce making.
I had soy sauce ice cream after the tour. The taste of the soy sauce was not overpowering and it was delicious!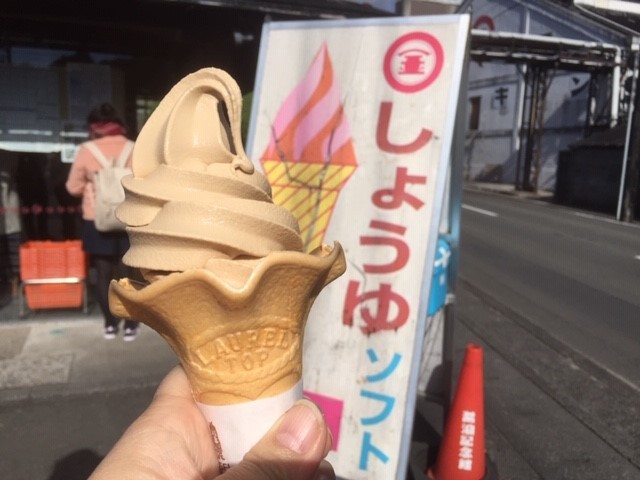 There are various soy sauce on sale, where you purchase as souvenirs. I had fun choosing them too!
Packaged foods such as Tsukudani (processed food simmered in soy sauce) and sweets are also delicious. The photo shows a fried rice cracker that is perfect for snacking.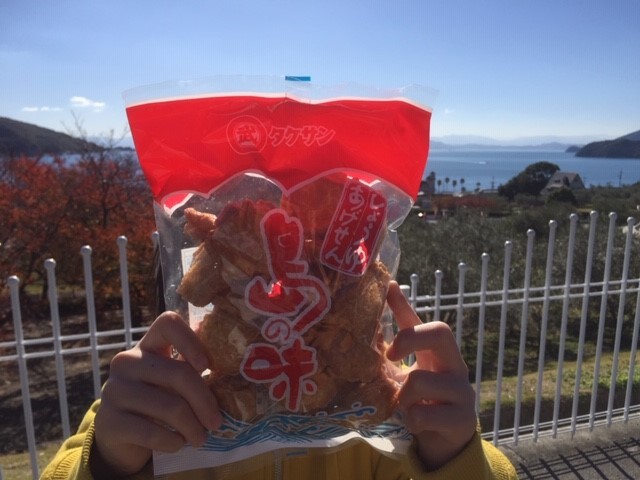 Marukin Soy Sauce Museum
 Kou1850, Noma, Shodoshima, Shozu District, Kagawa 761-4421, Japan
 0879-82-0047
 9:00~16:00
 Adults¥210、Children¥100
 http://moritakk.com/
Autumn is the harvesting season for olives
If you look closely, you can see many olives hanging in the tree.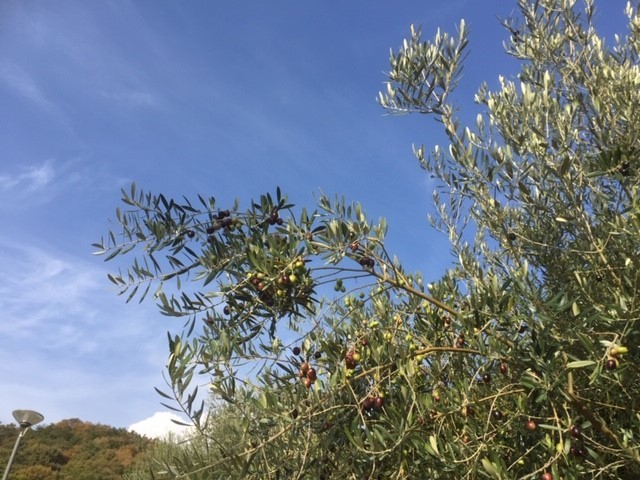 The only thing you can buy during this period when the olives are fruiting is the pickled olives. I bought the freshly salted ones, where even the locals can only eat them around this time.
It was my first time eating this and I'm amazed! It does not taste like a typical canned olive. The flavour gently spreads in your mouth, it is so delicious.
Various foods and cosmetics made with olives are also sold as souvenirs.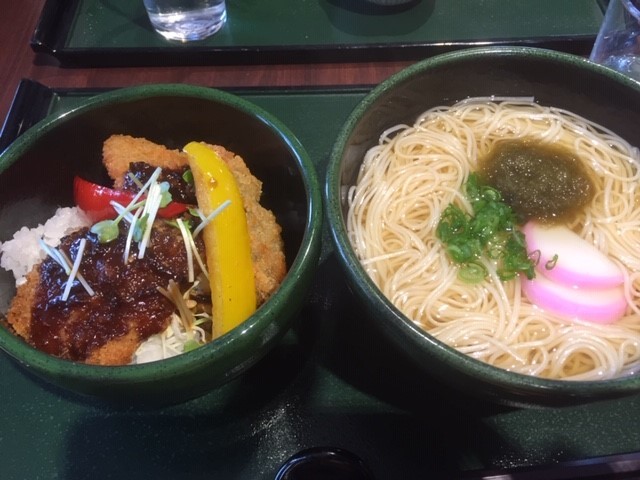 Somen is a thin, smooth Japanese noodle that is also popular as a souvenir.
Cold somen are great for summer, and hot somen (nyuumen) are recommended for autumn instead. Hot somen is the one on the left, where we had for lunch during our trip.
Filled with fun tourist facilities
Shodoshima is also recommended for people who want non-stop fun. Here are some of the many tourist facilities that I visited during this trip.
I stumbled upon this monkey park around the streets and decided to stop by. It was really full of monkeys! As it was also the mating season, the monkeys ignored the visitors and fought among themselves. A little cary, but interesting.
Feeding costs 100 yen.
Choshikei Monkey Park
 1341 Tonoshocho Hitoyama, Shodoshima-cho, Shozu-gun 761-4152, Kagawa Prefecture
 0879-62-0768
 8:10~17:00
 Adults¥380、Children¥190
 http://www.osaru-no-kuni.sakura.ne.jp
Twenty-four Eyes Movie Village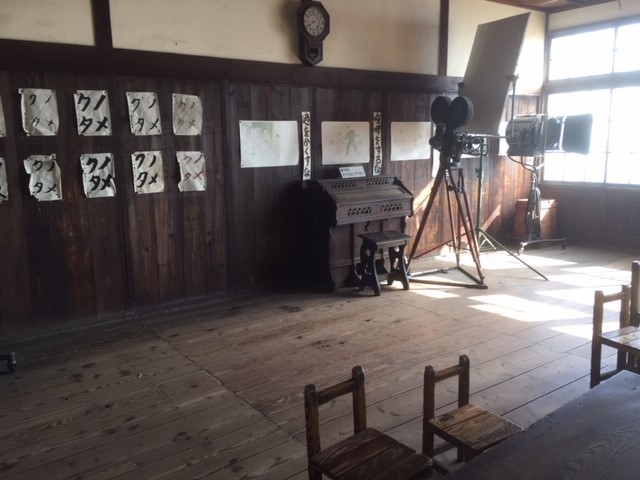 This is a theme park remodeled from the set of the movie "Twenty-Four Eyes" ("Nijushi no Hitomi"), filmed on Shodoshima.
It is filled with reconstructed nostalgic townscapes and schools.
Twenty-four Eyes Movie Village
 Kou931, Tanoura, Shodoshima, Shozu District, Kagawa
 0879-82-2455
 9:00~17:00
 Adults¥750、Children¥350
 http://www.24hitomi.or.jp/
It was an amazing trip around charming Shodoshima!
Shodoshima has always been a place I wanted to visit. And when I finally did, its beauty was beyond my expectations and I am absolutely impressed. I had so much fun.
Do visit Shodoshima! It will surely be a wonderful trip.
Writing/Photograph : Tanaka
Translated by : Isabelle Chia