Okage Yokocho: a street showing appreciation to the Gods
The Ise Grand Shrine, also known as Ise Jingu, is located in Ise city, Mie prefecture. It is where the God Amaterasu-Omikami resides.
Ise Jingu is also widely known as Oisesan or Daijingu, but its official name is Jingu. While it may get confusing with the different titles, they basically have the same meaning: "a God resides in the shrine". In fact, Ise Jingu is a shrine complex with 125 shrines surrounding it.
In this article, I shall introduce Okage Yokocho, a street modeled after the townscape of Ise in the Edo period, and always filled with visitors to the shrine.
OKAGE YOKOCHO
  52 Uji Nakanokiri-cho, Ise-shi, Mie Prefecture
 0596-23-8838
 9:30-17:00(Opening hours vary in different stores)
 20 mins by bus from Ujiyamada station (operated by Kintetsu)(Fee:    about 430 yen)
 https://www.okageyokocho.co.jp/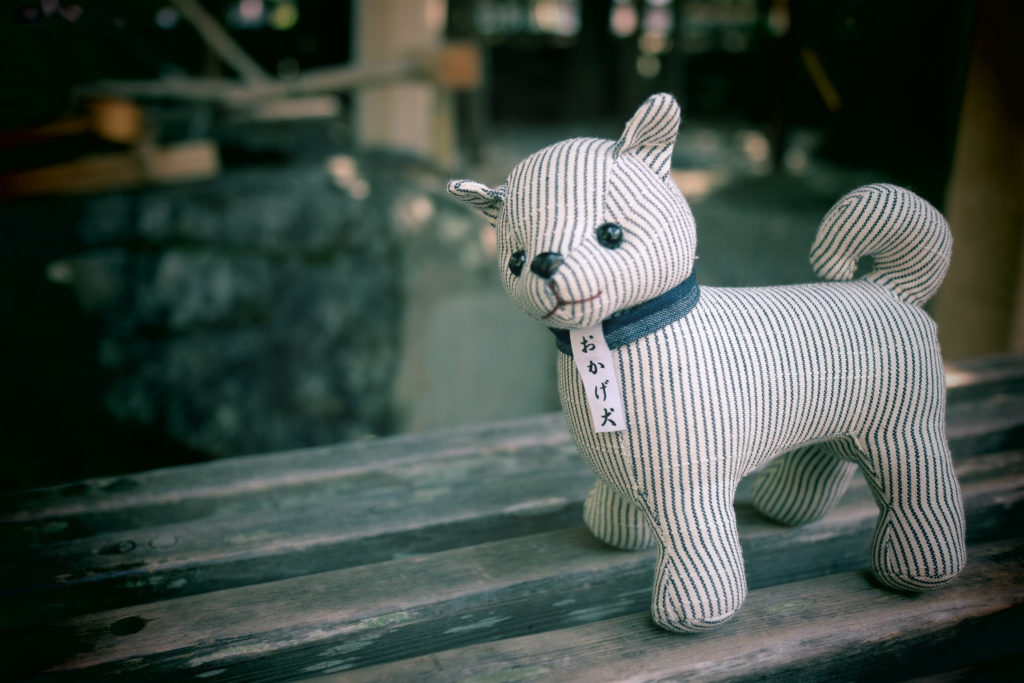 During the Edo period, many people hoped to visit Ise and see the Ise road at least once in their lifetime.
As it took about a month for a round trip between Edo and Ise at that time, there were stories of worshippers sending their pet dogs go on a pilgrimage to Ise Jingu on their behalf.
In Okage Yokocho, there's a store MOMENYA (もめんや藍) which sells miscellaneous goods made with Matsuzaka Cotton. The picture above shows an Okage Dog mascot, handmade with Matsuzaka Cotton. Each Okage Dog mascot has its distinct appearance and pattern, making it difficult to choose which to buy.
In fact, I have two Okage Dog mascots in my house. I am considering getting them to make a pilgrimage to the shrine on my behalf someday too.
You can enjoy Akafuku, also known as Akafuku mochi at the main branch  AKAFUKU HONTEN (赤福本店) in Okage Yokocho.
Akafuku mochi is made up of sweet and smooth red bean paste coated on top of a firm yet soft mochi. It has a pleasant sweetness to it, giving you an energy boost after visiting the shrine.
In summer, you can taste Akafuku Gori, a green tea flavor shaved ice with Akafuku mochi. In winter, you can also taste Zenzai, a limited edition of sweet bean soup with toasted Akafuku mochi. Please do enjoy the Ise specialty with a cup of tea at the store.
AKAFUKU HONTEN
 Uji Nakanokiri-cho, Ise-shi, Mie Prefecture  0596-22-7000  5:00-17:00(Opens daily, but opening hours may vary during peak period)  Opens daily, but opening hours may vary during peak period  Bon (set menu with tea) 210 yen Akafuku Gori (Summer menu) 520 yen Akafuku Zenzai (Winter menu) 520 yen  
http://www.akafuku.co.jp/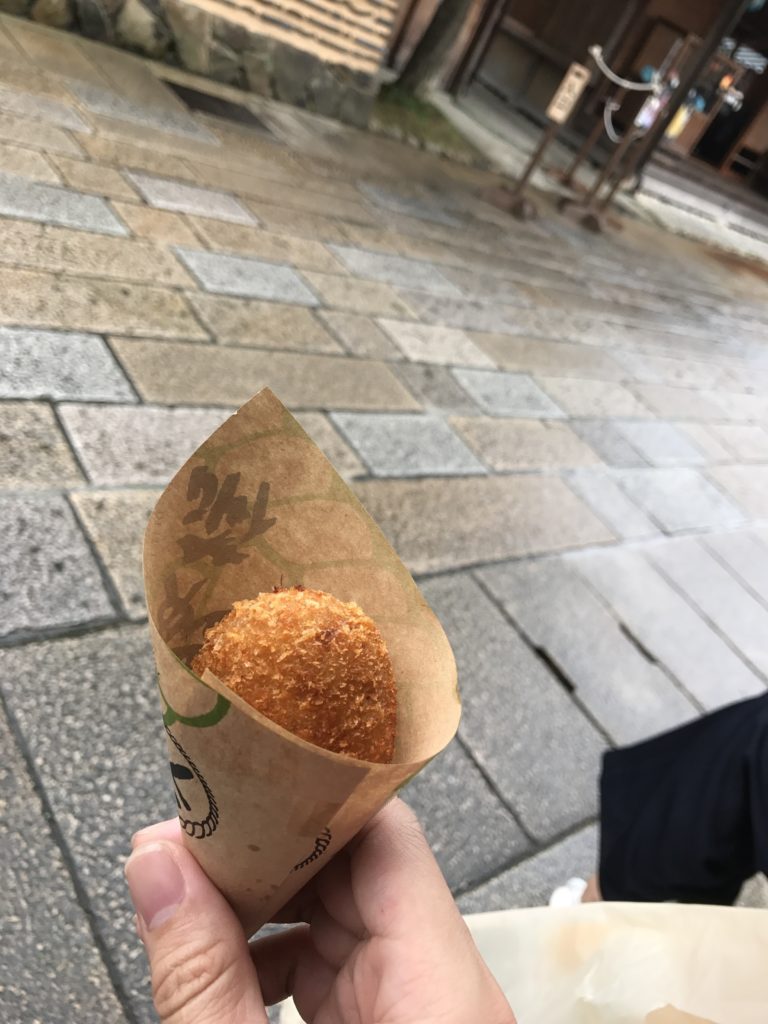 As you walk down Okage Yokocho,  you will be greeted by the enticing aroma, coming from the croquettes of the store BUTASUTE (豚捨).
The freshly fried croquettes retain the sweetness of the potatoes, which lingers in your mouth and making you yearn or more.
BUTASUTE
 52 Uji Nakanokiri-cho, Ise-shi, Mie Prefecture  0596-23-8802  Summer (Apr-Sep) 9:00~18:00 Winter (Oct-Mar) 9:00~17:00  Opens dail  Croquette 90 yen Minced meat cutlet 150 yen  
http://www.butasute.co.jp/
In the middle of the historical street, you will spot Yokocho ciders, being chilled with the cold river water of Isuzu river (a river that flows through Ise Grand Shrine).
It would be great to enjoy the sights of the streets while drinking a bottle of Yokocho cider.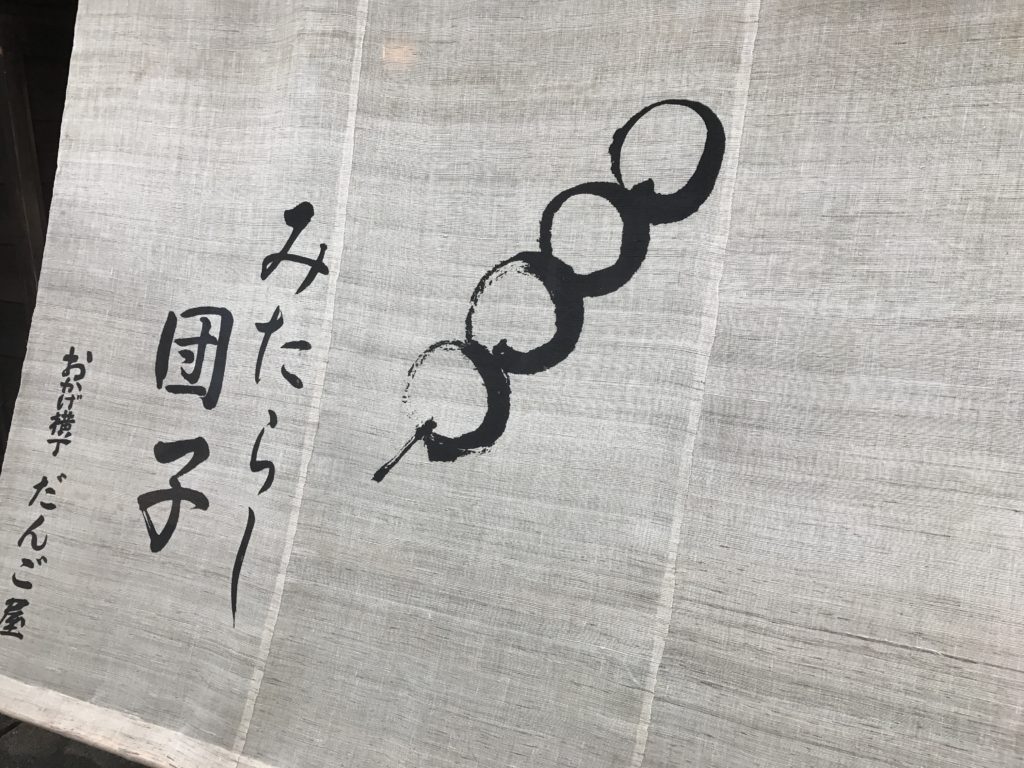 Dango is another specialty that will come into your mind as you walk along the traditional street. There are dango stores along the Okage Yokocho.
Dangoya (だんご屋) literally means a store that specializes in dango. Here, you can catch a glimpse of how dango is grilled and taste them in the store. You can also eat while walking along the streets.
There are different flavors such as the mitarashi dango (dango smothered in an irresistibly sweet soy glaze) or kuromitsu dango (black sugar syrup dango), but I personally recommend soy sauce dango. It is not very sweet and the taste is pleasing to the palate.
DANGO-YA
 12 Uji Nakanokiri-cho, Ise-shi, Mie Prefecture
 0596-23-8732
 9:30~17:30(but opening hours vary by season)
 Opens daily
 Dango 120 yen
 https://www.okageyokocho.co.jp/ 
Showing daily appreciation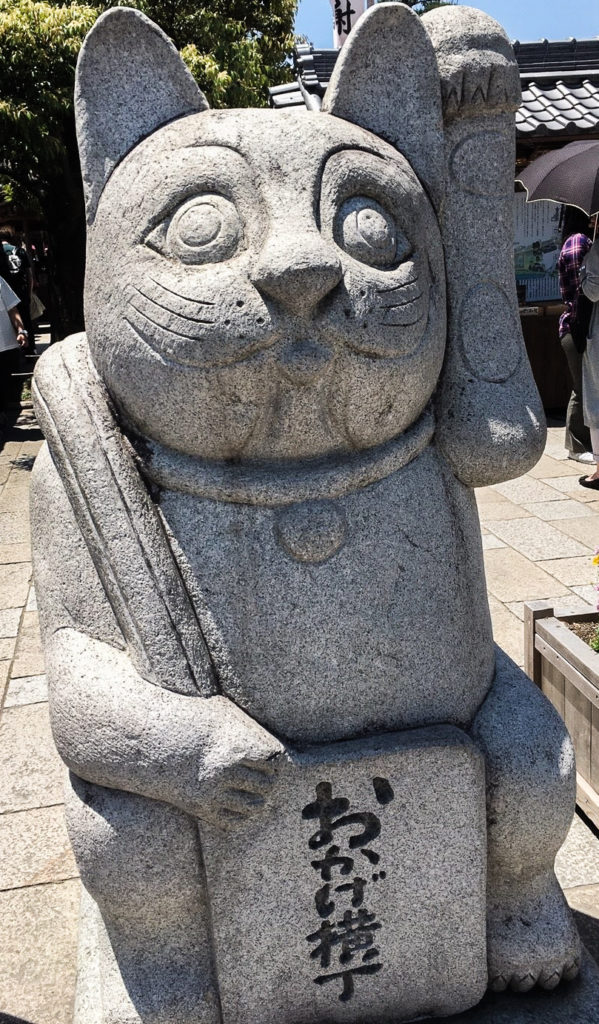 There are still many stores in Okage Yokocho: Japanese sake brewery, Incense stores, Japanese traditional snack stores etc.
Do take a rest at the Okage Yokocho when you visit the shrine.
Writing/Photograph : HASE
Translated by : Wan Xin Tham